Understand Your Brain, Get More Done: The ADHD Executive Functions Workbook
Most books on ADHD tell you what you need to know.
This one helps you to do it.
People with ADHD know what to do, but struggle with consistently doing what they should. This is where the executive functions come in—they help us turn our intentions reliably into actions. And that's where Understand Your Brain, Get More Done comes in!
"You have to give this workbook a chance. I know, you hate workbooks, we all hate workbooks, but you're going to love this one because it really is going to help you do stuff you really need to do and really do not want to have trouble with one day longer than you have to." [From the foreword.]
–Edward Hallowell, MD, author of Delivered from Distraction

"Dr. Tuckman continues to do an exceptional job of distilling the essence of theory and science about ADHD into a very practical guide for the adult with ADHD."
–Russell A. Barkley, PhD, clinical professor of psychiatry, Virginia Treatment Center for Children and Virginia Commonwealth University School of Medicine, Richmond, VA
"Dr. Tuckman's book Understand Your Brain, Get More Done provides realistic, practical, and useful information for those with adult ADHD.   Not only is the book enlightening, but it is also fun to read.   The exercises in the book are educational, easy to complete, and give great insight into the world of adult ADHD.   I have recommended Dr. Tuckman's companion book More Attention, Less Deficit to my patients and clients, and I have listed it as a recommended resource in my books due to its straightforward nature and wealth of information.  I will recommend Understand Your Brain, Get More Done for the same reasons.  They are both outstanding books."
-Stephanie Moulton Sarkis PhD, NCC, LMHC (ADHD expert and author of numerous books
"Understand Your Brain, Get More Done is a straightforward, jargon-free, refreshing workbook – a must for any adult with ADHD. Dr. Tuckman presents valuable scientific information in the most approachable way possible. Adults with ADHD will not be bored, but instead be challenged and enlightened by this structured, information-packed workbook. The book's tone is non-judgmental, empathic and even humorous at times. Most importantly, Dr. Tuckman gets it. He does not waste the ADHD reader's time with exercises that sound good on paper but in the real world are useless. This is the workbook I will use with my ADHD clients."
–Roberto Olivardia, PhD, Clinical Instructor of Psychology, Department of Psychiatry, Harvard Medical School
"Ari Tuckman has written a truly useful, insightful guide to working with, through, and even around (when necessary) your ADHD brain."
–Thom Hartmann, New York Times Bestselling author of 23 books
"This workbook provides a step-by-step guide to a new, more consistent future you may never have thought possible.  Is there work involved?  Of course!  They don't call it a work-book for nothing.  But Tuckman is right on target with his explanations and strategies – I can't wait to recommend it to my couples clients!"
–Melissa Orlov, Author of the award-winning The ADHD Effect on Marriage: Understand and Rebuild Your Relationship in Six Steps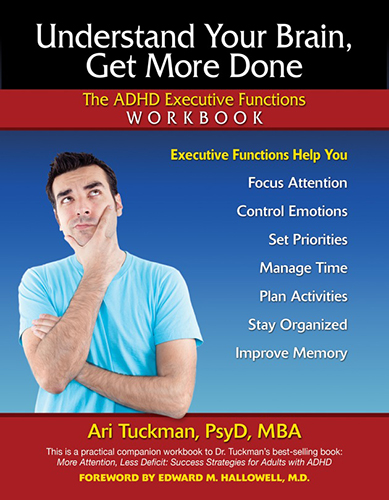 By understanding how the ADHD brain processes information, we can create strategies that are more likely to be successful. I describe the executive functions that are involved in ADHD and how they affect your day to day life. I then offer practical strategies to help you be more consistent and effective. The plentiful exercises in this workbook will help you apply these ideas and overcome the barriers that have gotten in your way before.
This workbook is all about getting things done.
This workbook…

Is based in the latest science
Helps you understand how your brain works
Shows you what executive functions are and how they affect you
Puts good ideas to work in your day to day life to help you function better
Walks you through a process of real change to improve your life
How to Use This Book—And How It's Different
There are three very important reasons that make this book different from other books—and why you should expect better results from it.
 1. This is More Work than Book (Emphasis on Doing, Not Reading)
I have included a lot of exercises to help you get the most out of this workbook. You don't have to do any of the exercises, but the more you do, the more benefit you will get. The more you put in, the more you get out. You may find that some of the exercises resonate with you more than others do—this is totally normal. However, you may also find that some of the exercises are a fair bit of work. This is good. Change takes effort—you've already figured out all sorts of things, so you're left only with stuff that's going to take some work. You've come to the right place—this is a workbook and you're going to do some work! You may find it helpful to dedicate some regular time to this workbook, just as you would with a therapist or coach or going to the gym.
There are lots of books out there about ADHD (I've written two of them). And most of them have lots of good information. I felt the need to write a workbook this time because I wanted to help readers more directly make changes in their daily lives. This means actively trying the exercises, rather than simply reading a bunch of stuff that sounds good and makes sense, but doesn't directly translate into your life. The exercises in this workbook bridge that gap between knowledge and action by giving you specific activities to practice.
Hopefully the work you put in on the exercises will be worth the improvements in your day to day life. That's the goal. I've worked really hard to give you meaningful exercises that aren't pointlessly easy, but also not so difficult that you need a masters degree in accounting to figure them out. So once again I'm trying to write the book that Goldilocks would choose—not too obvious but also not too confusing. This has been much harder than I had originally thought. It turns out that it's really hard to write a worthwhile workbook that finds the right balance. I've definitely worked hard, so I'll let you judge how worthwhile it is. My only request is that you give it an honest effort first—not because I deserve it, but rather because you deserve it.
2. Executive Functions Explain It All
There's a lot of good information out there about time management, organization, to-do lists, procrastination, remembering things better, etc. for folks with ADHD. Those are important topics because they affect how you live your day to day life. In this workbook, I've decided to get to the root of it all—the executive functions that are responsible for those ADHD struggles, so that you can apply those strategies more effectively. By focusing on the executive functions, you're more likely to choose the most effective strategies and apply them more consistently. As you know too well, creating strategies is easy—the magic is in sticking with them.
3. Jump Around!
The good news is that you don't have to start on page one and read diligently through to the end. Feel free to jump around. The material in Section I provides some foundation knowledge to help you with the chapters in Section II where the real exercises are. I would encourage you to read Section I first and do those exercises, but you don't necessarily have to if you feel that you know this material well already.